Bring Your Vintage Home To Life With These 5 Remodeling Tips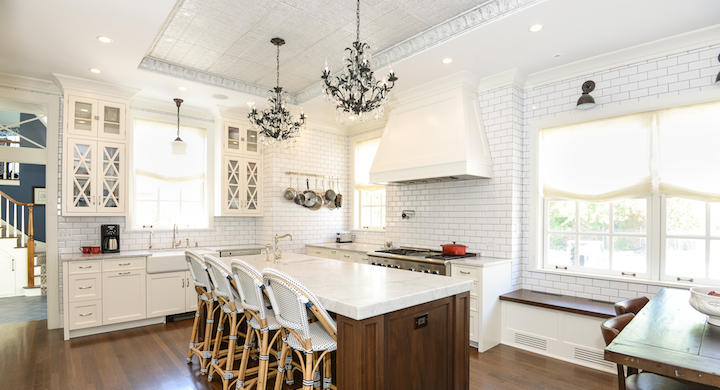 It's true what they say – "they don't make homes like they used to." Though that statement is often used with a negative outlook, it's actually a beautiful thing. The quality of vintage homes is appreciated exponentially more because we understand the rarity of every thoughtful detail. Vintage homes come with history – the people who lived there, the memories they made, and the time they lived in. Even a remodeled vintage home, if done with intention, feels like entering a different moment in time. There is something unbelievably special about the timelessness of vintage construction and design. With that said, they don't make homes like they used to anymore – bring the history of your vintage home to life with a timeless remodel. Remodeling an older home can sound intimidating, but if you follow these five tips, you can seamlessly highlight the unmatched beauty of your vintage home, while making improvements to meet your modern needs.
1) Balance trends with timelessness
When you are making changes to a vintage home, it's important to preserve the history and original architecture of the home as much as you can. Though some restoration may be needed to rejuvenate the original beauty, that extra step will pay dividends for years into the future. As trends and styles change, the history and quality of a vintage home does not. That does not mean you have to keep a closed-off floorplan if you want to take a wall down somewhere, but it might mean keeping the original finishing or built-ins, where you see fit. Again, it's about balancing new with original.
2) Get expert advice
With most home remodels, unless only minor cosmetic changes are needed, it's best to consult with a professional when you're planning your projects. From load-bearing walls to the potential for asbestos, your safety is at play when you start taking walls down. Save yourself the potential for future stress by getting expert advice before you start a remodel project. If you are local to Chicago's North Shore, Evanston, Wilmette, Kenilworth, Winnetka, Glencoe, Highland Park, Northbrook or Lake Forest, partner with New Concept 180 for advice and remodel help from vintage home specialists.
3) Expect the unexpected
It's important to recognize that there are going to be unexpected surprises with your vintage home remodel. That said, there are unexpected surprises any time you're a homeowner! Don't let the fear of the unexpected hold you back from creating the home of your dreams. Plan for some surprises along the way and feel confident knowing that you have the opportunity to catch issues when you are already in the midst of construction. A surprise during a remodel is far better than a surprise when you're eating dinner with your family. When you set your expectations for a remodel appropriately, you leave room to be pleasantly surprised.
4) Build a detailed budget, with buffer space
Before any material is purchased or hammers are swung, you need a detailed renovation budget that leaves room for the aforementioned unexpected surprises you are bound to experience. By proactively building your budget, you gain an understanding of how you need to prioritize projects in your home remodel, but you also have a means to hold yourself accountable when the projects get started. It is far easier than we realize to get carried away with all of the exciting options you have to update your home. A detailed budget helps keep you from making too many upgrades beyond your original renovation plan.
5) Research the specialty of your contractor
Every contractor has their own unique specialty, and not all of those specialties include vintage, historical, homes. Ensure you take the time to research the contractors you may want to partner with to achieve the results you have been dreaming about with your home remodel. When you hire a contractor that appreciates the unique beauty of vintage homes, you can entrust them to help you maintain the right balance of modern and vintage, while giving you peace of mind you have knowledgeable experts by your side, should the unexpected present itself in your remodel.
Remodeling your vintage home doesn't have to be scary or intimidating. In fact, it can be exhilarating getting to bring back to life 80+ years of history. If you follow the five tips shared today, your vintage remodel is sure to be nothing short of exciting and gratifying. To learn more about starting your vintage remodel, check out this Free Home Remodeling Cost Guide. It's time to create the home of your dreams!