Whole House
Design-Build
Remodeling Services in
Chicago
Planning for a whole house remodel doesn't have to be a bad experience. In fact, it should be one of excitement as you look forward to a completely altered home.
Unfortunately, many Chicago homeowners become disillusioned quickly after contacting designers, multiple contractors, subcontractors and figuring out what permits need to be pulled. The scope of the project is just too daunting. Electrical, plumbing, carpentry, masonry – a full house remodel requires expertise in all these fields, and if you choose a design-build contractor, you'll have everything you need with a single company.
The design-build method keeps the client in the loop throughout the process, so there is 100 percent accountability
Choosing the design-build remodeling company allows Chicago residents a solution for avoiding headaches involved in the traditional whole house transformation process. Whether it's interior or exterior renovation, a home improvement contractor has all the experts needed under one roof. This means all the hassle that goes into a traditional remodel disappears.
It's the nature of the design-build process to be extra focused on the client. Communication is flawless because all the professionals required to complete a remodel are working together for the same company. Furthermore, the experienced team will listen to your thoughts about how you want your project to look, the materials that interest you, and the amenities you want in your newly restored house. The designers work closely with you, then they pass the finished plans onto the builders.
Communication doesn't end there. The design-build method keeps the client in the loop throughout the process, so there is 100 percent accountability, and more times than not, the homeowner comes away from the project stunned with the end product.
Download our Home Remodeling Cost Guide to get a more accurate picture of what you might need to budget for your next project. This free guide contains costs for midrage and upscale remodels and things you should consider when remodeling your home.
Take the first step towards your dream home! Our team is ready to listen to your ideas and transform your house in any way you can imagine.
Add luxury to your home with
additions

in Chicago

There is no doubt about it – a home addition can add luxury to your home. It not only expands your living space; it also gives you opportunities to improve existing areas of your home and add a new dimension to how you enjoy your house, essentially giving it a new lease on life. On top of all that, you're raising your home's value when you take on an addition project.

If you have addition design ideas, make sure you hire a contractor with a design team that will help you make your ideas come to life. Choose a team that will take stock in your vision and add their expertise as needed. Room additions, whether it's a kitchen, bathroom, living room, bedroom or sunroom, are all unique, which means it's important that your contractor be able to take on a custom job and stay true to your ideas about your additions.

Your contractor should also have plenty of experience in home addition construction, so choose carefully because they're not all created equal. Whether it's adding a deck, porch or a new room – connecting with a home extension design professional first is the way to go. However, keep in mind that the home improvement professional should also work with a construction team that can manage everything within the scope of the project.

Garage additions and conversions are also hot topics in house addition projects today. Garages are excellent multi-use environments, which means it serves as more than just a place to shelter the automobile – it's also an excellent workspace, laundry room, gaming center or even a music room or lounge space with a bar.
Multiple room additions
Single room additions
House additions
Multiple rooms additions
Home addition designs and construction for multiple rooms
Today's multi-generational families are calling for multiple room additions in their designs and construction projects. Adding multiple rooms offers significant improvements in the possibilities for a home. For instance, adding a bedroom, bathroom and living room to the home means space is being freed up for other uses – anything that an expanding family requires.
These projects deserve a design-build experts with years of experience who can pull it off on budget and on time. Furthermore, every project is unique, which means Chicago homeowners need to consult with a designer that will listen to their needs and help draw up the perfect plan for the build team. At New Concept 180, that's exactly what we offer. Also, we know families don't want to be displaced by construction, so we do everything we can to minimize the impact that a home addition project can have on a living situation.
« House additions
Single rooms additions »
Single rooms additions
Single room additions can be the perfect solution for your renovation project
Among the most popular addition projects today is the single room addition. Generally, when a remodel doesn't quite meet the needs of a family, a single room extension can be the perfect answer. It's amazing how much more space a room transformation can free up for the remainder of the house. Another component of a single room addition is that it adds value to the house.
A design-build contractor is the perfect match for room additions in Chicago. At New Concept 180, we have our designers meet with the client to thoroughly discuss all the options. When the plan is to perfection, it goes to our build teams who have the experience necessary to execute every item of the plan, line by line.
« Multiple rooms additions
House additions »
House additions
House additions can bring a new level of livability to your home
Not every home remodel project has to be massive in scale. In fact, something as simple as a deck addition can offer a refreshing spin on the livability of a home. Garage conversions similarly provide options for multiple uses in that space. Or, perhaps something more complex like a multi-car garage addition is in order?
For professional house addition contractor services, contact New Concept 180. We've got designers and builders working together every day on many remodeling projects, including house additions.
« Single rooms additions
Multiple rooms additions »
Get an exclusive home addition and create more space to your home. Whatever you envision, our construction geeks can design and build it.
Our
Design-Build
Approach
Idea
Every project begins with an idea. No matter if you have a very concrete vision for your remodeling project, or want to hear our industry insights, we will listen to your needs and explain how we can help you bring your idea to life.
Design
After we know everything about your idea, we give it shape. In other words, we develop blueprints and drawings of your design. Let us worry about technical issues. You will get to review our plans and tell us what you like and dislike.
Build
Once you give us a 'go' on the design, we begin transforming your home. While we are getting our hands dirty, you can track our progress, review schedules and look at pictures from the worksite using latest software that we will introduce you to.
Design-build approach allows us to work with you on all aspects of your project. From the initial client consultation and idea development, to construction and final completion.
Begin
bathroom remodeling

project with traditional, modern and luxury design options

The bathroom is a space that is often quite limited, which makes it difficult for most homeowners to imagine the remodeling possibilities. However, working with a professional designer, you can better understand exactly what those possibilities are. From understated to luxurious, our designers at New Concept 180 can lend a hand working with what space you have.

You can take on a bathroom addition to your home and create a new, spa-like bathroom with all the amenities
Traditional


Despite its modest title, a traditional bathroom remodel can actually make a big impact on the comfort level of your home. These are often remodel projects that make bathroom timeless because they lack bold colors in favor of more classical colors and elements.

Modern


For those who want to take the design element up a step to reflect a more modern or contemporary style, going with the modern remodel is a good choice. Efficient and aesthetically pleasing designs that offer form and function typify a modern bathroom remodel. It's also a look that pairs particularly well with smaller rooms.

Luxury


Pulling out all the stops, adorning the bathroom with top-end fixtures and tile – the luxury bathroom remodel is one that has the power to stun anyone who experiences it. Whether it's black glass with brass trim or marble walls and limestone flooring – New Concept 180 has experience working with the most opulent materials.
Let your bathroom evolve into a spa room! Our professional team will make sure that you can enjoy a unique and relaxing spa-like experience in your own home.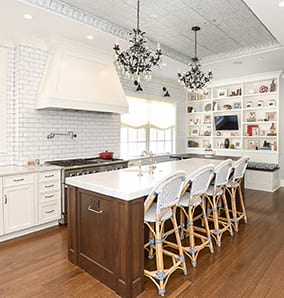 Excellent customer service and overall responsiveness; fair pricing; dedicated to details to finish the project in high quality.
Read more reviews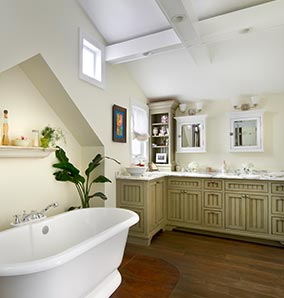 New Concept 180 provides some of the most innovative services, and best finishing work we have come across in the industry. They are amazing with their installations, and as a bonus, offer a home care service after everything is complete so the home owners can live maintenance worry free. We've enjoyed working with Gideon on numerous projects and would work with him again any time.
Read more reviews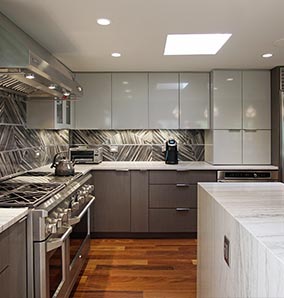 Gideon is a true professional as are all of his subs and tradesmen. I would highly recommend him for your next project.
Read more reviews
Give your kitchen a fresh new look with
kitchen design and remodeling

services

The kitchen remodel is a fairly common project for Chicago homeowners. Since it is one of the most used rooms in the home, it makes sense that upgrades and a redesign occur more often than is required in other rooms. When you work with a professional designer, you can quickly ascertain what layout will work best in your home.

We have extensive experience finding the best materials that fit your vision

For instance, perhaps you are looking for that "zone" design that breaks up the kitchen in different areas. You want to separate the cooking from the eating and perhaps offer some space for entertaining. The zone design can give you that.

Perhaps your kitchen is better suited for a corridor or galley style for a long and skinny kitchen. The L-shape is also an option for some homes. Or, if you have more space, you can go with the U-shape design that allows for a large island in the middle. Regardless of your preference, New Concept 180 can assist you in determining what will work best and which materials will suit your needs as well as your unique tastes.

Does your vision for a kitchen remodel include a copper sink and ceramic floor tiles that resemble wood? Maybe you've got your eye on antique light fixtures or a gas range? We have extensive experience finding the best materials that fit your vision. Furthermore, regardless of how complicated or simple the design might be, our build team works with you to ensure that everything in your plan is addressed skillfully.

At New Concept 180, we've got your kitchen remodel needs covered.

Take the first step towards your revolutionize kitchens! Cooking will be a pleasure in your ravishing, innovative, freshly remodeled kitchen.
Take a Look at What We Have
Accomplished
Actions speak louder than words, so have a look at our completed projects. Here you will find pictures of some of our newest kitchen, bathroom and interior design and remodeling projects in various locations around Chicago's North Shore.
Common basement spaces ideas we can make a reality
Game room and playroom
Home entertainment theater
Gym and fitness areas
Child's playroom
Guest suites
Private sanctuary
Wet bar
Wine cellar
New bathroom, spa bath or sauna
Workout rooms
Storage area
Basement remodeling

that add space and value to the home in Chicago

It's no exaggeration to say that the basement can be a prime location for a lot of good memories for Chicago families. From utilizing it for recreation, games, slumber parties or just quiet nights at home with the family taking in a good film – the basement can be the often forgotten space where special moments are created – but only if you transform it to a livable space.

If your basement is currently being used for storage and the thought of actually spending any quality time down there seems far-fetched, consider what a professional contractor with plenty of basement remodeling services can do to change that perception. For example, the right contractor can take it from a cold and boring, perhaps even cobweb infested space, and transform it into a warm and comfortable space with all new walls, floors, ceilings, fixtures and appliances.

At New Concept 180, we can add and/or remove basement walls, provide a number basement flooring options, paint and/or texture the ceiling, take care of all the plumbing and tiling in a new downstairs bathroom, install new lighting and entertainment systems – basically, anything you envision – New Concept 180 has the team of professionals to handle it.
Lower level remodel services
It's not uncommon for a growing family to use the lower level of their Chicago home to create more livable space. From building an en suite in the basement to creating a basement addition, you have options. Furthermore, as your needs evolve over time, the New Concept 180 team will be there, assisting you in drawing up the plans, showing you what's possible and giving you options to make your basement the cost effective solution for utilizing more space in your home.
Choosing the right design/build team for your new basement project
The design/build process is unique in that the designers are working on the same team as the professionals who build the new basement. This is important because it's not uncommon for some plans to get lost in translation in situations where the designers and each of the contractors (plumbers, electricians, carpenters) all come from different companies. With the design/build method, there is no risk of miscommunication because everyone is working under the same company, which means your project will not only be completed on time and on budget, it will have all the perks you asked for in the plans.
The above list is just a sample of what we can do for you. Once you get the plan worked out with our design team, the build team will take over and make your unique vision for your basement a reality.
Contact us today and let's get started on your new basement project.
Let's start planning your luxury remodeling project with a design-build contractor
There are many ways to revamp a home, but when it comes to a whole house remodeling project in Chicago, nothing beats a design-build solution. Interior and exterior renovation projects can be intricate and complex, which is why the design-build remodel services method is so important when considering which contractor is brought in for the job.

In traditional full house renovation methods, you're forced to work with a contractor that only does part of the job, leaving you do deal with communicating your wants and needs with a subcontractor that probably doesn't care much about your timeline or your workflow.

However, when you choose a design-build contractor like New Concept 180, you're getting everything you need with one contractor, from the design concept to drawing up the plans to the construction phase to the final walkthrough. All the expertise you need is on the same team, communicating together to achieve exactly what you want in your home remodel, addition or multiple addition project.
Check out bathroom remodeling possibilities
Take a look at spotless kitchen remodeling
Learn about how we build spacious additions
For more information, contact us today at (847) 566-7606.
Begin
Transforming
Your Home Today
The first step towards your goal always seems like the most nerve wrecking. It doesn't have to be. Our team is ready to listen to your ideas and understand your needs. Simply set the date for your appointment and we will begin realising your vision.